I would like to thank the person who first suggested grating fresh cauliflower to make it into a "rice" like consistency. It has become a new favorite and is incredibly versatile. My advice to you is run, not walk to your kitchen now to try it!
I first heard about this a few years ago amongst the Paleo community as a substitute for rice for those wanting to eliminate grains or even just calories in general. Cauliflower "rice" is simple to prepare and can be used both raw and cooked and also stores well in the freezer once cooked. To create the grainy texture you simply grate fresh cauliflower using a hand grater (the larger grate size) or a food processor.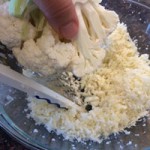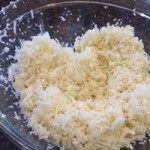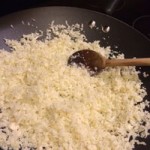 At this stage the raw cauliflower can be used in place of couscous or bulgar in cold salads such as a Tabouli Salad. You can also lightly steam it to make it less crunchy. The amount of time will depend on its use and if it will be further cooked or baked in a recipe.
To cook it, you can simply steam in a microwave for about 5 minutes for a large head of cauliflower or you can sauté in a small amount of oil or even steam sauté in broth or water for 5-10 minutes to desired tenderness. The cauliflower is very bland at this point but will easily take on any flavor theme desired. Simply add salt and pepper and use as a base for a curry dish or stew or sauté in olive or coconut oil with onions and chopped veggies for a side dish of fried cauliflower rice. Add diced chicken, any ground meat or diced seafood for a compete meal. Experiment with chopped herbs or spices such as turmeric, paprika and cumin. You can use it in place of rice in burritos to curb the overall carbohydrate content. The options are only limited to your imagination.
Stay tuned for more recipe ideas and let us know if you have any ideas to share.