Shoulder Pain Professionals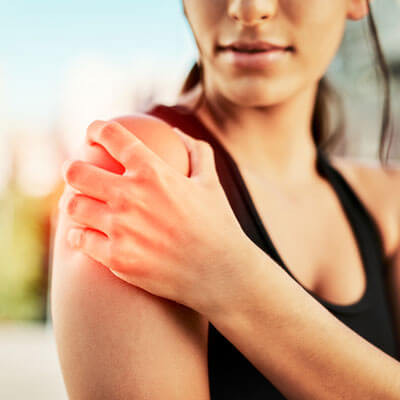 As one of the most mobile joints in your body, your shoulder is unfortunately easily prone to injury or discomfort from a variety of environmental and even genetic factors. It is held together by ligaments, and the surrounding muscles in your shoulder give it stability with the help of muscles in the upper chest and upper back. For years, Charles Street Family Chiropractic has been helping patients in the Boston, MA, area get the shoulder pain relief they need to get back to normal day-to-day activities without constant discomfort. Whether you have chronic shoulder pain from an underlying condition or have recently been in an auto accident and suffered a trauma in your shoulder, we can help.
Rotator Cuff Syndrome
A common shoulder injury is rotator cuff syndrome, which is the swelling of the tissues (or tendons) connecting the muscles and bones in your shoulder. Rotator cuff syndrome should be treated quickly so as to prevent the occurrence of any other shoulder conditions, such as frozen shoulder or degenerative issues. Many shoulder conditions causing shoulder pain can be treated with chiropractic care, allowing for safe and efficient rehabilitation of your shoulder.
The Many Causes of Shoulder Pain
There are many causes to shoulder pain, including inflammation of your muscles and tendons or the shoulder joint itself. The pain and discomfort can range from the inability to move your shoulder, to a slight discomfort when making certain motions. Usually, mild pain is caused by overuse and inflammation, while chronic and severe pain may stem from rotator cuff syndrome or other conditions. The neck is commonly related to many shoulder issues. Because of the relationship between your neck and shoulder, auto accidents can trigger many different shoulder problems. Your body is interconnected in many ways, and pain from whiplash in your neck after a car crash can quickly spread to your back and shoulder areas. At Charles Street Family Chiropractic, we take a comprehensive approach to ensure you are getting the shoulder treatment you need.
Seeking Chiropractic Services for Shoulder Pain?
If you have been experiencing shoulder pain or discomfort for more than a few days, we recommend you seek chiropractic care as soon as possible. At Charles Street Family Chiropractic, we are able to give you a full assessment of your shoulder pain and provide the chiropractic services you may need. Dr. Quigley will explain shoulder motion to you, and provide you with useful tips, such as stretching or exercises, to ensure the healthy recovery of your shoulder joint. Specific trauma to your shoulder area can also necessitate other forms of chiropractic services as well. When your body is unexpectedly shocked, such as during a car wreck, your body usually tenses up, resulting in injuries to your shoulder, neck, and back areas. Our team of shoulder specialists can help you regain strength and mobility the right way.
Call Today for Treatment
Have you recently been involved in an accident that injured your shoulder? Are your home remedies not providing the relief you need? Schedule an appointment with one of our shoulder specialists today at Charles Street Family Chiropractic. It can be anxiety-provoking when you've been in an auto accident and find you are experiencing pain and discomfort in your shoulder, neck, or back region. Getting professional chiropractic care is essential for making a full recovery.

Boston Shoulder Pain Relief at Charles Street Family Chiropractic
102 Charles St, Boston, MA, 02114 | (617) 720-1992