Your Roadmap to Recovery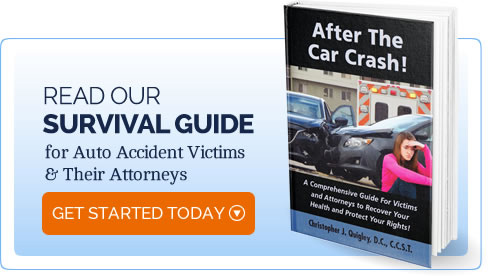 Been in an Auto Accident?
Whether you've been involved in a minor fender bender or a more serious auto accident, knowing what to do following an accident is critical. Unfortunately, there's a significant knowledge gap on how to protect yourself if you've been involved in an auto accident. After caring for auto accident victims for over 27 years and witnessing firsthand the damage improper treatment can cause, Dr. Chris Quigley decided to write a comprehensive book to help guide car accident victims and their attorneys: After the Car Crash! A Comprehensive Guide for Victims and Attorneys to Recover Your Health and Protect Your Rights!
Protect Yourself
"Because there is a lot of misinformation out there about what to do post-accident, I want to help victims protect themselves so they don't end up disabled or lose their rights," says Dr. Quigley.
I want to help my patients get the best care possible and give them the information they need to protect their rights to the compensation to which they are entitled. Dr. Chris Quigley
In this book, Dr. Quigley, a 27 year physician in the care of these injuries who has interfaced with attorneys and insurance companies, teaches you the steps to take to get your injuries healed properly and your wallet made whole. These are secrets the multi-billion dollar insurance industry does not want you to know. The first section of the book covers the basics of what to do if you're in a car accident and the types of injuries you may sustain. In the second section, you will learn how to deal with the insurance industry. "There are certain techniques that those in the industry use to minimize their costs that adversely affect injured people and their attorneys," says Dr. Quigley. The third section of the book features steps victims can take to recover from their injuries as quickly and completely as possible.
Get Started Today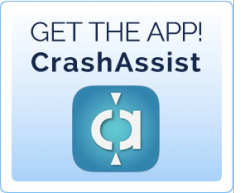 Complete the form below to request a preview of Dr. Quigley's book, After the Car Crash! A Comprehensive Guide for Victims and Attorneys to Recover Your Health and Protect Your Rights! When you're ready, you can purchase the book in its entirety on Amazon-available in both paperback and Kindle editions. And don't forget to download our app, CrashAssist. Let Crash Assist make it easy by giving you a step-by-step guide to follow at the scene of the accident. Do the right things, ask the right questions, and follow the right steps, and the aftermath will be that much easier. If you've been involved in an auto accident, contact Charles Street Family Chiropractic. We will do everything we can to help you get on the road to recovery physically and document your case properly so your attorney can have the information to protect your rights to be adequately compensated for your injuries. Call Charles Street Family Chiropractic today at 617-720-1992 or complete the form below for more information.

Request Your Own Preview of After the Car Crash Today!